【Spy x Family】Second Cour Scheduled to Air From October! There is Still Time! Review Spy x Family in 5 minutes!
2022-09-22
※This article, for description purpose of the Spy x Family latter cour expected to air in October, includes slight plot disclosure of the Spy x Family first cour. If you are interested, this is one of the best anime released in 2022, so check out from the first episode now!
Konnichiwa everyone! This is Nozaki from Doujin Republic!!
In just about 2 weeks, the currently-airing summer anime will wrap up, and
new fall anime will start to air in October 2022!
Have you had a chance to check what anime is expected to start in the fall~!? In today's article, we'd like to go over this anime that's definitely going to be popular among all upcoming fall anime!!
【Spy x Family】Second Cour Coming to Air in October!
It's not too Late! Review Spy x Family in 5 minutes!
https://doujinrepublic.com/product/tag_page.html?tags=432136
And so today, let's go over Spy x Family whose first cour aired in April 2022 and was very successful! I summarized it concisely so the article can easily help review even for people who haven't seen it yet!!
This is what Spy x Family is like!
There once were two nations called OSTANIA in the East and WESTALIS in the West.
The two countries are currently pausing their conflicts and temporarily maintaining diplomatic relations.
However, an unknown organization is attempting to bring an end to the pause and to restart the war.
WESTALIS spy, Loid Forger sneaks into OSTANIA.
Though he tries to approach his target...... the only opportunity is when an elementary school, that the target's child attends, has an event. In order to come close to his target, Loid ends up creating a fake family......? !
---
Loid Forger
Loid Forger
https://doujinrepublic.com/product/tag_page.html?tags=459498
Talented spy agent from the western nation, WESTALIS.
Nicknamed 『Twilight』, Loid Forger is not his actual name.
As a war-orphan himself, he works to create a world without war.
He possesses an extraordinary intelligence as well as athletic ability and is a spy that makes the impossible possible. Personality-wise, he is mostly dry but is a sucker for (kind to) children. The more he spends time with the two as family, he feels guilt toward involving them into this fake-family plan.
He is not aware of the other two's true identities.
---
Yor Forger
Yor Forger
https://doujinrepublic.com/product/tag_page.html?tags=459497
An assassin for OSTANIA, the eastern nation. Her nickname is 『Thorn Princess』.
She has been secretly eliminating villains that try to restart the war. She meets Loid when she was also considering a fake marriage to mask her assassin identity. Her personality is kind and gentle, but she has low tolerance for alcohol. She has beyond-human physical fighting abilities, exceeding Loid's even. She works hard every day as the mother of the pretended family but is not very good with housekeeping tasks.
She does not know the true identities of the other two.
---
Anya Forger
Anya Forger
https://doujinrepublic.com/product/tag_page.html?tags=459494
A girl with psychic abilities who used to be a subject of war-weapon experiment. She escaped the research institute and hid herself in the orphanage. She has a telepathic ability; she successfully became Loid's adopted-child through seeing his thought-process that sought for a smart child to sneak into the elementary school. She knows that the two are a spy and an assassin that act for the sake of peace, and secretly helps to keep the family stay together.
Knows about other two's real identities.
And with such history, the three became a pseudo-family! When their surrounding gets skeptical, they act family-ish...... and while the beginning is awkward, it's endearing and interesting to see how their bond strengthens over time as episodes progress~!
Second cour will introduce multiple new characters!
Yor will (probably) carry out an important mission, and Loid's colleague may appear, and......!?
Well, as far as I can see from the released key visuals, the second cour (Episode 13 ~) that will start in October will probably include Yor (most likely) executing important missions and have an appearance of Loid's colleague......! We are expecting a plotline that's slightly more serious than the first cour, including unfolding episodes with more intense action scenes!!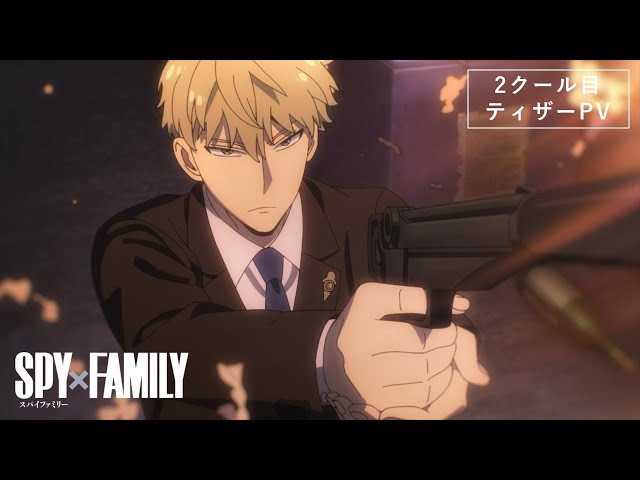 Spy x Family
https://doujinrepublic.com/product/tag_page.html?tags=432136
Anyway, Spy x Family is really fantastic among all the anime that came out in 2022! It's also my favorite anime, so if this sounds intriguing to you, please check it out!
Alrighty, that's about it for now! Let's catch up at the next article~!
See you~!
---
Related Articles
Popular Articles